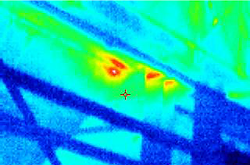 Dust bridges
Blocked dust hoppers
Thermal bridges
Dust caking
or the like
Should you experience some of the above mentioned difficulties, or we detect such during an inspection, we can render the following service:

1. Assessment of actual situation
The actual thermal situation of your ESP – or any other plant component – is
determined and documented in a report, visually presenting the findings using
images. This way, you can verify our findings upon completion of the measurements.
By means of thermal imaging faulty heater circuits in, for instance,
dust hoppers can be discovered. Furthermore it is used to detect thermal bridges in,
for instance, insulation.
2. Development of a solution concept
Upon completion of the imaging, we will propose a solution in the report.
In collaboration with your staff we will promptly develop the implementation plan
(execution time, time scheduling, staffing, etc.).

3. Development of a repair plan
Are the repairs mandatory at this time, or can they be postponed?

4. Delivery of spare parts
The spare parts can either be taken out of your stock or out of ours.
Should the required parts be out of stock in both your and our inventory,
we will give our best to procure the parts within 24 hours.

5. Implementation
We will perform the works using skilled and qualified staff.
Trained in health and safety issues, our staff is instructed to respect all relevant health
and safety issues, as well as your in-house safety regulations. If necessary,
safety deficiencies will be pointed out.
But at the same time we assure you that the works will be performed at minimum time –
in spite of all safety measures. We realise that every hour of down-time costs a lot of money.
6. Preparation of a detailed report
After successful commissioning, a detailed report on the performed works will be issued.
Usually, it is sent to you in advance as a PDF. The hard-copy will be sent shortly afterwards,
including all records on CD.
7. Report generation including suggestions for improvement
This report will not only document the performed works, but will also contain suggestions which,
in our view, guarantee a longer running-time and/or lifespan.
You can include our suggestions in your scheduled maintenance planning.
So you, as a plant operator, can save a lot of money.